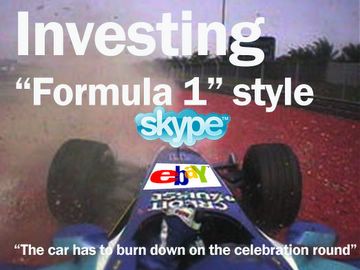 SKYPE IS SOLD
- TheHornestStory -
Im a very very happy mann today.
I met Janus and Niklas during our consulting days - at NeoIdeo - where they took all business away from us ;( - then 18months after we sold Neo Ideo to Leo Burnett and I had Prey4 (the incubator backed by SparNord) suddenly Janus called me to Pitch Kazaa their new StartUp (with a 100% iTunes idea - I still have the plan - and can only say FUCK THE RECORD INDUSTRY for being som lame - and only daring to give the LICENSES TO Steve Jobs (iTunes)).
Then my incubator went out of business - and I helped Janus and Niklas on the Kazza a bit - Then they sold to Sharman - and I invented the BullGuard Concept...
Then came Skype - this crazy idea - that I never believed in. I told the guys - that they where just bored and had nothing to do - and I never believed in it.... Even though I helped pitching to Venture Capitalists and started building the brand - and eventually had to invest a bit - since they wheere out of money - LIKE IN -
OUT OF MONEY
. The rest is history - hard work and network - and insane high evaluations - and "in my opinion - THE BRAND CALLED NIK & JAY"...
Personally -
I live from investing and I´m not only happy becomming pretty much more wealthy - thats not really new... The good thing is that I can take away a lot of presure from myself.
Due to my PSYKO AGRESSIVE investment style - I've been havign very big trouble getting enough cash to invest with the speed of the last 36 months - meaning that I?ve nearly been out of money - but now I will enjoy a little peace - and PUT THE VOLUE TO 10 ;)
BullGuard
, Consumer security software
TalkTown, Groupware (DEAD)
Doomtools, Spy & PopUp killer (DEAD)
Spleak
, virtual communication
Zyb
, Global SMS gateway
Aresa
, BioTech detecting landmines
MobileWeaver, Software for mobiles
MediaMobsters, Computer games and more (DEAD)
Maxthon
, the no.1 browser in China
Damai
, the luxury hotel in Bali
iWall, upcoming photo service
HelloBrand
, brand consulting
And just upcomming ->
Excitor
, Secure mobile Email and Mobile Fleed management
Kontera
, contextual advertising
TellItOnline, hardware with technology
The Lund&Partners China Fund 20mio$, investing in Mobile Media & Technology
Demib Inc, blogging for the better
Vacationvalley
, 7000 vacationhouses for rent...
NEAR - Nano Enabling the Afrcan Region...
I hope to have enough self controle not to "over invest - but Im really gettting ready !"